Amalfitano, Gloriamarie submitted January 2004
My name is Gloriamarie Amalfitano, still something of a hippie. I loved the idealism of the Counter Culture: simplicity, back to the earth, all that stuff. Bought it hook line and sinker and still try to live that way. Hometown: Princeton, NJ where I had a fabulous elementary and high school education. Raised Roman Catholic and my earliest memories are of playing with Jesus outside in the yard. This vividly real sense of His presence faded as I grew older and began to notice what was going on around me. Although I faithfully memorized the Baltimore Catechism Revised Number 2, I still had no clue how to hold on to that sense of Presence. Of course, I was also the poster child for a kid from an extremely dysfunctional family so I dare say that also had an impact. But I really blame it on our move from our rural home into the town of Princeton. All that noise, you see.
Around age 14, I decided I no longer believed in God and started to read philosophy. I did this very systematically, starting with Socrates and Plato and working my way through the Existentialists before I graduated from high school. Went off to Beloit College in 1968, arriving there in time to be horrified by the Democratic Convention that year. I flunked out of Beloit twice, having had no idea that college was any different than high school. Eventually I realized that I had no study habits. The key to learning is the ability to teach one's self and I had never developed that. Once I did though, there has been no stopping me coz I think it is the most fun thing. I enjoy the process of learning so much that I have had to learn to ask myself if the knowledge I am about to acquire is info I really want to have. I have wasted years pursuing something only to find out, once I have mastered it, that it is nothing I enjoy or value and that I was seduced by the joy of learning.
On February 7, 1971 at 12:15 am, my faith revived. I had had a friend at Beloit, David Perry, who was a Christian and we used to have theological discussions. He had come to Princeton to visit me and we were deep in one of those conversations when my roommate came in to tell him everything that was wrong with Christianity. I realized that her understanding of the faith was flawed, so I started to explain to her what it was all about. David just sat there with an odd expression on his face. Eventually she went to bed and David looked at me and said "So, what do you think?" I said "I believe" and was flooded with the sense of the Presence once again.
Sadly this did not last, no matter how faithfully I read my Bible, went to Bible study, read Christian books, hung out with Christians, went to a Christian College, discovered the Episcopal Church and married a Christian man. One of the major influences in my life has been mental illness: Major Depressive Disorder; Post Traumatic Stress Disorder; bit of Anxiety Disorder, a general hodgepodge of brain disorders, I didn't discriminate. I had started therapy when I was 15 and have been in therapy off and on, mostly on, ever since. My marriage failed, I divorced my husband and went to seminary. I selected the one that was geographically closest to me, Gordon Conwell Theological Seminary in Hamilton, MA. I had moved to Ipswich MA in 1974 to finish college at Gordon College in Wenham, MA. My BA is in Biblical and Theological Studies. My MA is Church History, and I am fascinated with the history of the development of Christian spirituality, Although I find anything later than the 14th century to modern and boring.
In seminary the stress of having to support myself while doing brilliantly in my classes was too much and I had a very public meltdown with the end result that I started on anti-depressant meds for the first time. 13 years later I had to accept that those meds do not cure me the way they have cured so many others and I became disabled. However, the combination of my seminary studies, the Book of Common Prayer and anti-depressants did restore to my life that which I hold most dear: a deep and abiding sense of the presence of the Lord. Different, of course, then when I was a toddler playing in the sandbox with Jesus, but precious.
The defining moment of my life was my vision which came to me in April of 1982. We had a new priest at my parish, Christ Church, Hamilton-Wenham, MA named Mark Dyer. He had been a Benedictine monk. In February of that year, he started to teach at Gordon-Conwell. He felt there was a serious lack in their approach to Church History and that was the spiritual experience of Christians in the early and medieval church. He introduced me to contemplative prayer. And I wanted that. I wanted to be a contemplative more than anything. I read, I studied, I absorbed and I approached prayer very differently than I had. I had treated God like my Cosmic Errand Boy, now I sought to make myself receptive to the still small voice. Of course, I was wrapped up in seeking the gifts and not the Giver.
I sat in bed one Saturday morning, drinking coffee and praying Morning Prayer, reading the day's lessons, when I remembered all those times surrounded by people who felt the Lord and heard His voice and how I had cried myself to sleep at night begging Jesus to hold my hand so that I wouldn't feel left all alone.
Suddenly in my shrieking in anger at God, oh yes, I vocalized it!! I heard a Voice who said to me: "Gloriamarie, how could I possibly have held your hand when I hold you in mine?" And on top of it I had a vision of a pair of hands cupped as if to receive the Eucharist and me standing on that fleshy bit just below the fingers, peeping over the top in a Kilroy was here manner. I knew beyond any shadow of a doubt that that is where I live my life, that my truest identity is that I am in the cupped hands of the Lord, that I have always been there and always will be.
To this day, that vision sustains me. I have only had the one vision, but I have never needed another. Oh, certainly I forget, even my non-Christian therapist has figured out that when I get so lost in the Insidious Dark, all she has to do is remind me of that Vision and I begin to come out of the Dark.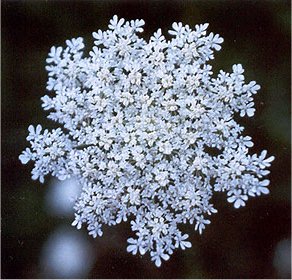 Queen Anne's lace